Diasporic Alliance for Cannabis Opportunities
2019 Cannabis Opportunities Conference
2019 Cannabis Opportunities Conference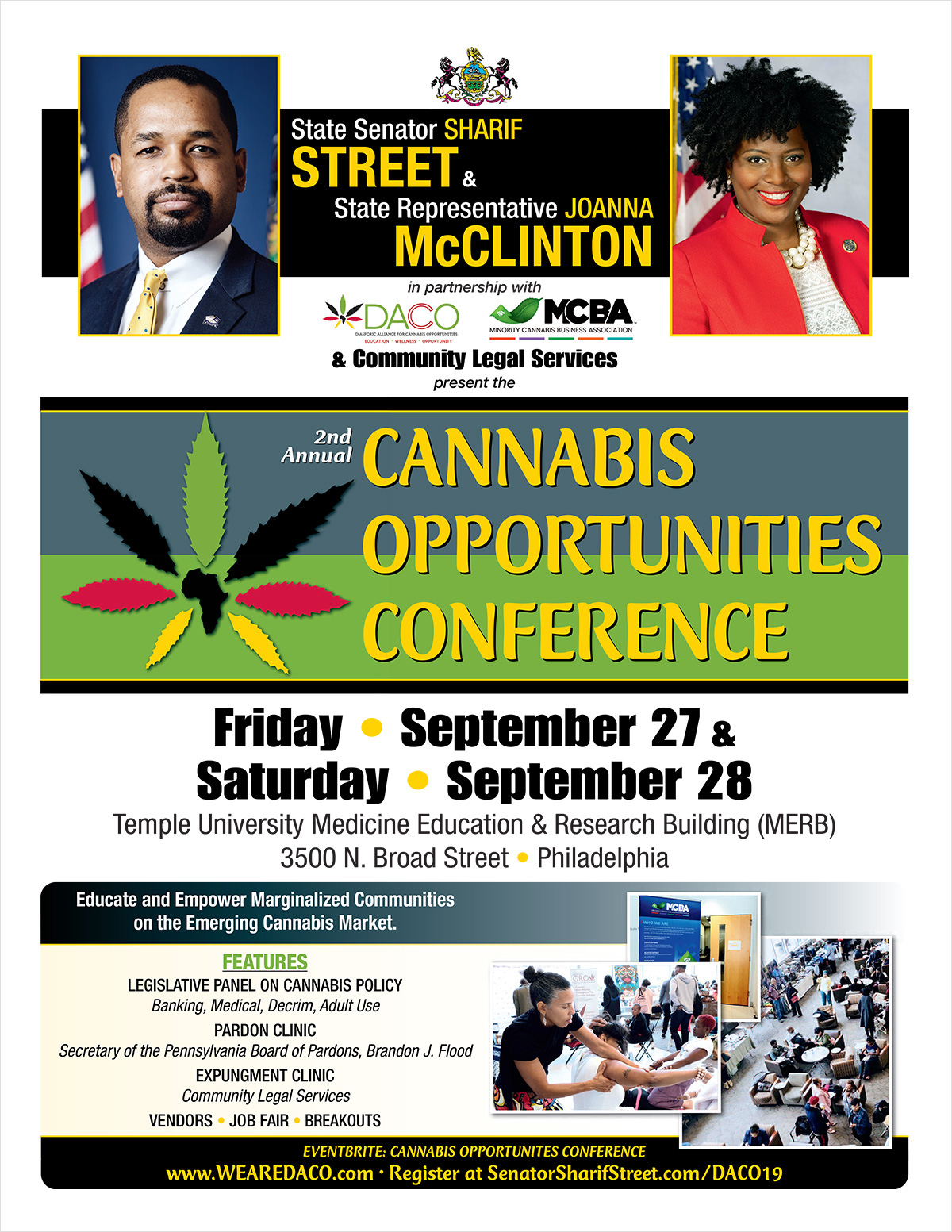 FRIDAY, SEPTEMBER 27, 2019
Welcome to Conference and Open Exhibitor Expo
Senator Sharif Street
Opening Remarks
Mayor Jim Kenney
Acknowledgement
Cherron Perry-Thomas, Co-Founder, DACO
Prayer
Pastor Tim Baldwin
Conference Schedule
Desiree Ivey, Co-Founder, DACO
Dr Zorodzai J.T Maroveke
Founder & C.E.O of the Zimbabwe Industrial Hemp Trust
LOU AUDITORIUM (ROOM 105)
Legislative Panel on Cannabis
Moderated by Senator Street, State Rep Chris Rabb & State Rep Movita Johnson-Harrell
LOU AUDITORIUM (ROOM 105)
Social Justice Panel on Hemp
Moderated by Bill Cobb, ACLU,  State Rep Jordan Harris, State Rep Danilo Burgos and Councilwoman Janet Diaz, City of Lancaster
LOU AUDITORIUM (ROOM 105)
Preview of Saturday Workshops
Desiree Ivey
LOU AUDITORIUM (ROOM 105)
Closing Remarks
Senator Sharif Street
LOU AUDITORIUM (ROOM 105)
Haute Restaurant & Lounge
1420 Locust Street, Philadelphia, PA 19102
SATURDAY, SEPTEMBER 28, 2019
Welcome Senator Street – Press Time
LOU AUDITORIUM (ROOM 105)
Acknowledgement Desiree Ivey
LOU AUDITORIUM (ROOM 105)
Criminal Record Expungement
Pardons Secretary Brandon Flood, Community Legal Services and State Rep. Joanna McClinton
Job Fair
Resume Building, Cannabis Workforce, Cannabis Business Development, Employers
Workshops
A variety of breakouts on Hemp, Medical Marijuana and the Cannabis Industry: Health, Economic Empowerment, Diversity & Inclusion and more (Two Floors of Activity
Keynote Speaker
Congressman Dwight Evans
LOU AUDITORIUM (ROOM 105)
Expungement Preregistration
Senator Sharif Street, Defender Association of Philadelphia, and Community Legal Services will hosting an expungement clinic. If you would like to participate, please preregister below.
Learn about your rights with a criminal record:
Volunteers will be available to help you understand your criminal record.
If you have a criminal record in Pennsylvania, you may be able to have it expunged or sealed.
Those who qualify will be able to receive free legal help.
* PHILADELPHIA COUNTY CASES ONLY *
For more information, please contact my district office at 215-227-6161.
Are there ID or minimum age requirements to enter the event?
Under 18, parent required
What are my transportation/parking options for getting to and from the event?
Street parking
Broad St line at Broad/Erie
C Bus
How can I contact the organizer with any questions?
hello@wearedaco.com
1-800-791-1845
Do I have to bring my printed ticket to the event?
Yes, it will belp move through the line faster
2018 Cannabis Opportunities Conference
Over 700 Gather for Philadelphia's First Cannabis Opportunity Conference hosted by Senator Street & DACO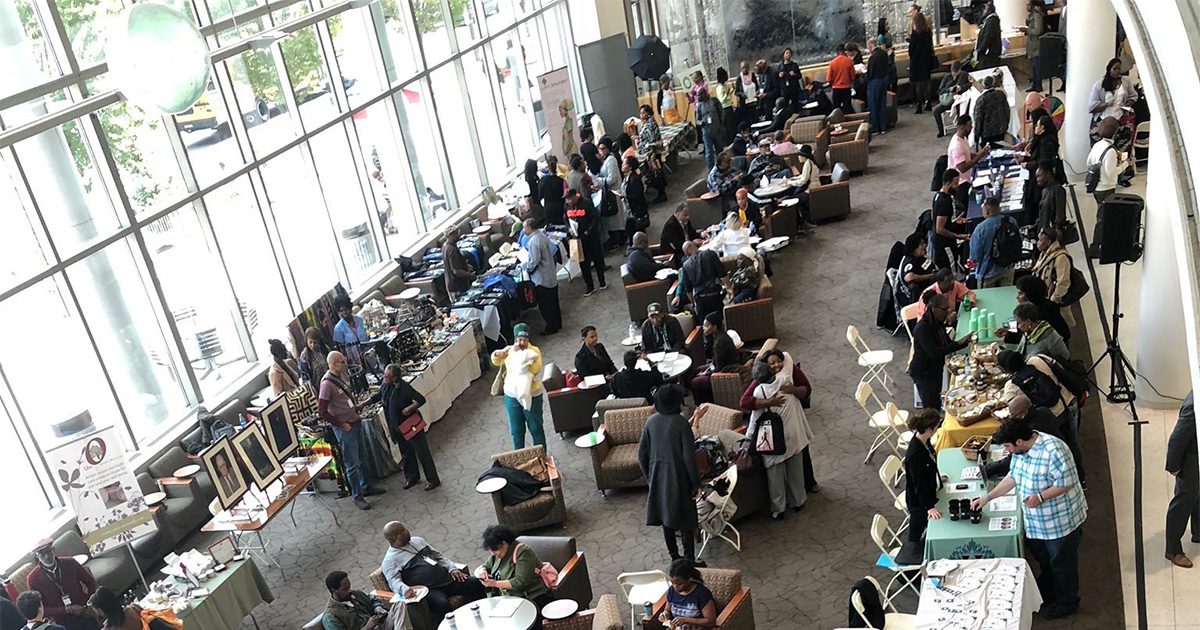 PHILADELPHIA, PA − October 25, 2018 − '2018 Cannabis Conference: Seeking Higher Ground' − PA Senator Sharif Street, 3rd District joined the Diasporic Alliance for Cannabis Opportunities (DACO) to host a two-day conference on the emerging opportunities in the Cannabis Industry for marginalized communities on Friday, October 19th and Saturday, October 20th, 2018 at Temple University Medical School located at 3500 N. Broad Street, Philadelphia, PA 19140.
The event which drew over 700 participants in two days was hosted by The Diasporic Alliance for Cannabis Opportunities and opened with a welcome address by Philadelphia Mayor Jim Kenney and a message on Social Justice from US Senator Cory Booker. Senator Street and DACO aims to open the dialogue for opportunities in education, wellness, social justice, policy, entrepreneurship and workforce development. A diverse group of exhibitors and speakers converged to offer a variety of programming including a job fair, legislative panel of past and pending cannabis reform, expungement clinic and more.
Senator Street's Opening Remarks
Mayor Kenney's Opening Remarks
Reason for the Conference
Message from Senator Booker
Temple University
Medicine Education and Research Building // 3500 N. Broad Street // Philadelphia, PA 19140
Temple University
Medicine Education and Research Building // 3500 N. Broad Street // Philadelphia, PA 19140