How to Vote
June 2nd is the New Primary Election Date
The covid-19 pandemic has transformed our every day lives. Your voice is needed now more than ever as we navigate a crisis we've never faced and work to make sure our communities aren't left behind.
Almost one million in PA have signed up to vote by mail . The June 2 primary election is less than a month away. Please take the time to apply for a mail-in ballot to vote safely from your home. May 26 is your last day to do so.
We will get through this difficult time together. Now is the time to be vocal and vote your interests.
Beginning 50 days before each election, you are now able to go the Board of Elections and vote in-person, regardless of where you live in Philadelphia. That means, for the Primary Election on Tuesday, June 2, 2020, you can be voting now!
For more information, contact city commissioners list below.
Commissioner Lisa M. Deeley, (D)
Chairwoman
City Hall, Room 130
Philadelphia, PA 19107
Phone: 215-686-3460, 3461
Fax: 215-686-3947

Commissioner Al Schmidt, (R)
Vice-Chair
City Hall, Room 134
Philadelphia, PA 19107
Phone: 215-686-3464, 3467
Fax: 215-686-3472

Commissioner Omar Sabir, (D)
Secretary
City Hall, Room 132
Philadelphia, PA 19107
Phone: 215-686-3462, 3463
Fax: 215-587-9107
Departmental Contact Information
County Board of Elections
City Hall, Room 142
1400 John F Kennedy Blvd
Philadelphia, PA 19107

Phone: 215-686-3469

Voter Registration Office
520 N Columbus Blvd, 5th Floor
Philadelphia, PA 19123 

Phone: 215-686-1591
Right-to-Know Request Form
Download here.
Right-to-know contact:
Nick Custodio
City Hall, Room 130
Philadelphia, PA 19107
right-to-know@philadelphiavotes.com
Voting Machine Demo Signup: please complete
the form below and return via email to vote@phila.gov or
fax to 215-686-1599 ATTN: Greg Irving or hand delivery to
City Hall, Room 130 or 520 N. Columbus Blvd, 5th Floor.
You may now vote by mail-in ballot. To do so, simply apply for a mail-in ballot by 5:00 PM on the Tuesday before the election. You do not need to provide a reason or excuse if you want to use a mail-in ballot. You can return your voted mail-in ballot by mailing it to the board of elections using the envelope provided, or you can drop it off in person at the board of election's office. Whichever way you choose, the Board of Elections must receive your voted ballot by 8:00 PM on election day in order for it to be counted.
You may also ask to be placed on a permanent mail-in voter list. If you are on this list, you will have a mail-in ballot application mailed to you by the first Monday in February each year. If you complete and return the application, the county will send you ballots in the mail for all the elections that take place that year.
Registered voters have until Tuesday, May 26 to apply for a mail-in ballot:
💻 Request one online: http://VotesPA.com | ☎️ Call: 1-877-VOTESPA (1-877-868-3772) | 🕐 Track your ballot: votespa.com/MailBallotStatus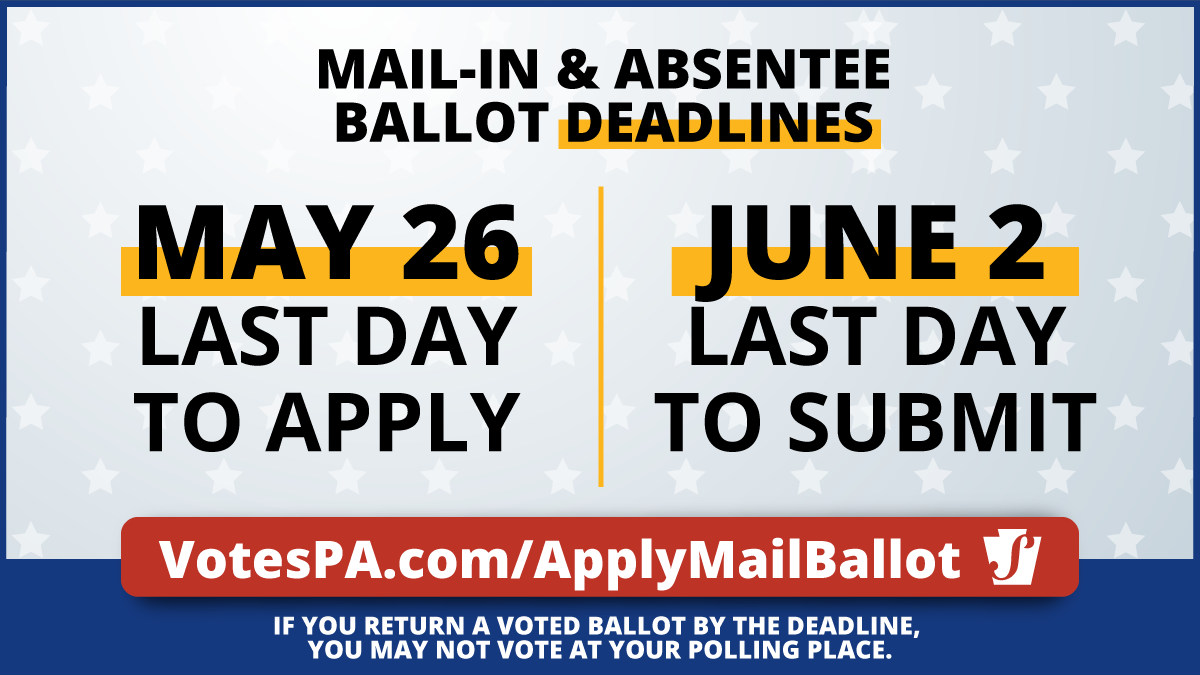 You no longer have the option to press a single button to vote for all candidates of one party. However, this change does not prevent you from selecting only candidates from one party. It simply removes the shortcut button option. If you want to vote for all candidates of one party, you will have to select each candidate one at a time.