Philadelphia, Pa. − April 29, 2019 − Moms Demand Action and CeaseFire PA joined Senator Street, Philadelphia Councilwoman Cindy Bass and Senator Haywood at Temple in leading a community rally to welcome Team 26 to Philadelphia.
The Pennsylvania Senate also honored David Doyle of Team 26 who recently passed in a tragic accident with a Citation of Condolence Sponsored by Senator Street. Representatives Malcolm Kenyatta, Danilo Burgos and various advocates in gun violence prevention also joined the event.
This is the seventh annual ride for Team 26.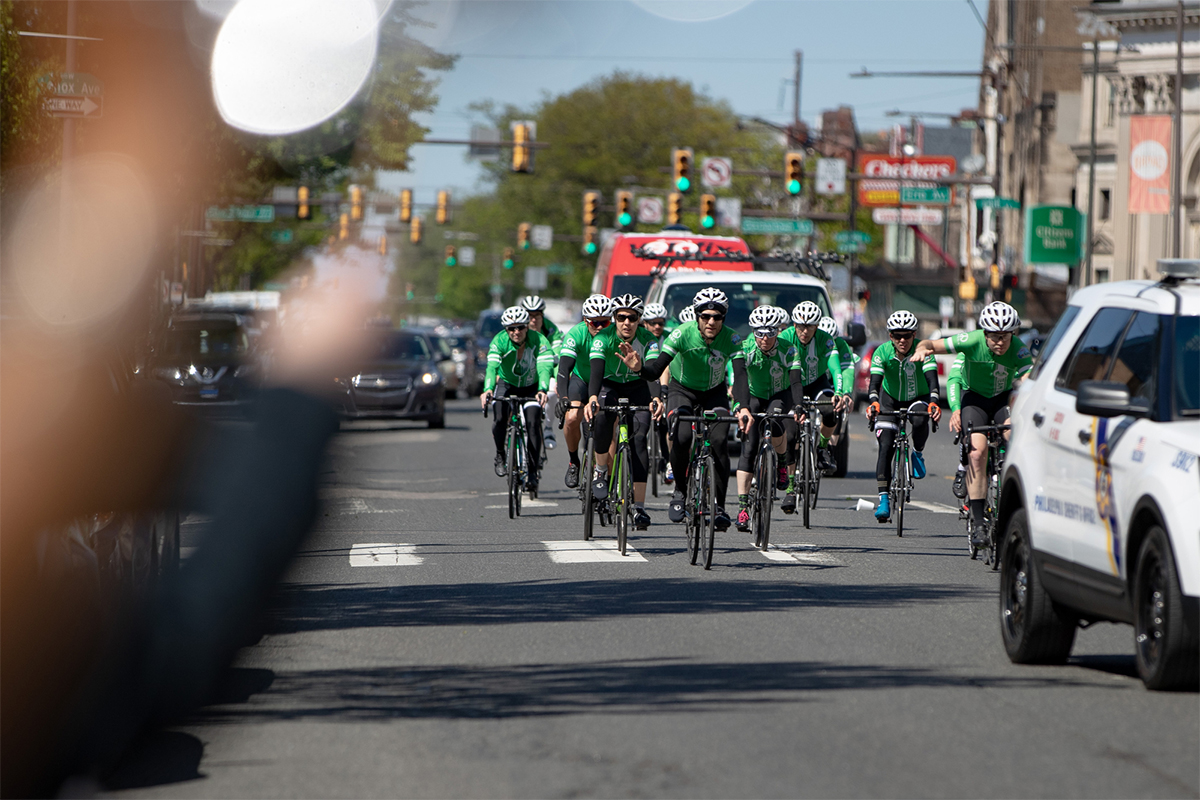 Departing from Sandy Hook, CT the Team will travel 600 miles, over six days before arriving at Tree of Life Synagogue in Squirrel Hill, Pittsburgh, PA on May 2 to raise awareness and promote sensible solutions to the nation's gun violence epidemic.
"It is appalling that as we celebrated Team 26's ride to the Tree of Life Synagogue in Pittsburgh, to advocate for peace love and acceptance of all faiths, at that very moment a mass shooting, once again stemming from anti-semitism, occurred at the Poway Synagogue; the shooter having previously set fire to a mosque," said Senator Street (D-Philadelphia), "This is a critical moment in our nations history, as the proliferation of firearms and hate filled mass shootings border on the routine. We must be vigilant in protecting sacred spaces and creating substantive reform. I look forward to working with Moms Demand Action and Ceasefire PA in this effort."
"I was glad to support Team 26 in their fight to take guns out of the hands of dangerous people on Saturday alongside Senator Street, Ceasefire PA & Moms Demand Action," said Senator Art Haywood. "Team 26 is a strong example of what citizens can do to end gun violence, and after the recent shooting that occurred at the synagogue in California, we are reminded yet again that common sense gun laws need to be in place."
"We are grateful for our partnership with Team 26 and their commitment to end gun violence in America," said Mellisa Carden, Volunteer Philadelphia Lead, Moms Demand Action for Gun Sense in America
"We are focused on uniting faith communities who have been impacted from gun violence. An attack on one faith is an attack on all faiths." Said Monte Frank, Founder, Team 26.
"We are proud to stand in partnership with CeaseFire PA and Temple University as we welcome Team 26 to the city of brotherly love. We honor those lost to gun violence by working together to raise awareness of this public health epidemic and passing common sense legislation to keep our communities safe," said Melissa Carden. Volunteer Leader, Philadelphia chapter of Moms Demand Action for Gun Sense in America
Speakers at the event included:
Monte Frank, Founder, Team 26
Andy Pelosi, Executive Director, Keep Guns Off Campuses
Robert Warner, Program Manager, Cure Violence Philadelphia
Aliya Catanch-Bradley, Principal, Bethune Elementary
Shira Goodman, Executive Director, CeaseFirePA
Melissa Carden, Philadelphia Lead, Moms Demand Action
###