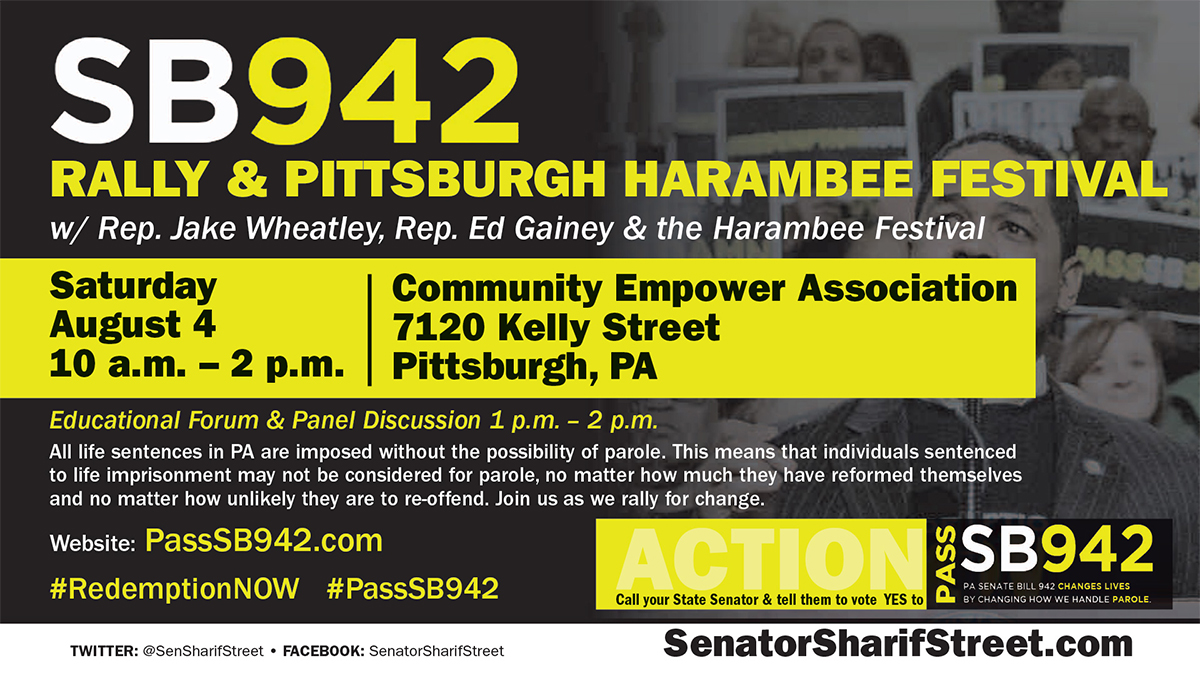 Pittsburgh, PA − August 2, 2018 − Saturday, August 4th, Senator Sharif Street (D-Philadelphia) will hold an Educational Forum with PA Representatives Jake Wheatley (D) and Ed Gainey, as a part of Senator Street's 'Redemption Tour' to raise awareness of senate bill 942, ending life without parole in Pennsylvania.
Senator Street (D), "I'm proud to join my colleagues and the Women's Law Project in bringing awareness to the various groups to which senate bill 942 may provide relief. With almost half of lifers in PA being Seniors, we incarcerate the lowest risk individuals at the highest rates and greatest costs. We also hold the most Juvenile Lifers, awaiting resentencing, Battered Women whose cases may warrant a second look and more than 500 lifers who have never taken a life. Empowering the Parole Board to hear these cases will allow us to join the rest of the nation in administering criminal justice that includes both redemption, where applicable, and fiscal responsibility."
All life sentences in Pennsylvania are imposed without the possibility of parole. This means that individuals sentenced to life imprisonment may not be considered for parole, no matter how much they have reformed themselves and no matter how unlikely they are to re-offend. This includes many people who have never taken a life.
Representative Ed Gainey (D), PA says, "The time is now for Pennsylvania to address this critical issue of self-redemption providing our citizens with a true second chance. I'm pleased to host this event in my district and looking forward to Senate Bill 942 becoming law in Pennsylvania."
Sue Frietsche, Esq., Senior Staff Attorney, Women's Law Project said "The Womens Law Project is grateful to Senator Street and Reps. Gainey and Wheatley for convening this discussion, and we look forward to working together to achieve a more just and merciful criminal justice system."
Senate Bill 942 would permit an individual sentenced to life imprisonment under the laws of this Commonwealth to be considered for parole after serving a period of time. It also extends parole eligibility retroactively to those sentenced prior to the effective date of the legislation. The bill creates no right to parole, so it will not allow our most dangerous inmates to go free. The Commonwealth's Board of Probation and Parole will continue to responsibly reject requests for parole from those who do not deserve it, or who present too great a safety risk to the public.
###
WHEN: Saturday, August 4, 2018
HARABEE FESTIVAL: 10:00AM – 3:00PM
EDUCATIONAL FORUM: 1:00 PM – 2:00 PM
WHERE: COMMUNITY EMPOWERMENT ASSOCIATION, 7120 KELLY STREET PITTSBURGH, PA
Participants: PA Senator Sharif Street, 3rd Senatorial District
PA State Representative Ed Gainey
Sue Frietsche, Esq. | Women's Law Project
Juvenile Lifer and Advocates