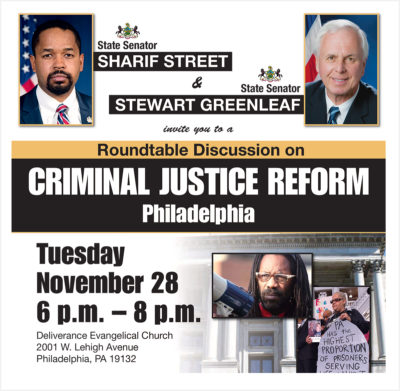 PHILADELPHIA – November 22, 2017 – State Sens. Sharif Street (D-Philadelphia) and Stewart J. Greenleaf (R-Montgomery/Bucks) will host a roundtable discussion on Nov. 28 in Philadelphia on criminal justice reform efforts in Pennsylvania.
"We spend staggering amounts of money to incarcerate our fellow Pennsylvanians; it is both inefficient and unsustainable," Sen. Street said. "Pennsylvania has the second highest number of people serving life without parole while featuring a broken cash for bail system. Too many view our criminal justice system primarily as an economic engine when redemption and rehabilitation should be the focal points. Investing in people and divesting from prisons is the most progressive criminal justice reform."
"We are still a government that over-incarcerates and fails to treat inmates' addictions," said Sen. Greenleaf, the Republican Chairman of the Senate Judiciary Committee. "We have work to do in the areas of reducing mandatory minimum sentences, treating addiction, improving conviction integrity, and protecting the victims of human trafficking."
PANELISTS:
State Senator Sharif Street (D-Philadelphia)
State Sen. Stewart J. Greenleaf (R-Montgomery/Bucks)
Michael Coard, Esq., Attorney and Community Activist
Marissa Boyers Bluestine, Pennsylvania Innocence Project
Dr. Joseph Green, 2019 Movement
WHAT:
Roundtable Discussion on Criminal Justice Reform
WHEN:
Tuesday, Nov. 28 from 6 to 8 p.m.
WHERE:
Deliverance Evangelical Church
2001 W. Lehigh Avenue
Philadelphia, PA 19132
Senator Street Remarks on Current Opoid Crisis During Roundtable Discussion on Criminal Justice Reform :: November 13, 2017