Providing Resources & Support During
COVID-19
COVID-19 Vaccine Information
All Pennsylvania adults are now eligible for COVID vaccine
Every adult in Pennsylvania will be eligible to receive the COVID 19 vaccination.
You can find providers on the COVID-19 Vaccine Provider Map here.
To date, Pennsylvania providers have administered more than 6 million vaccines and the state is ranked among the top 20 states for first-dose vaccinations. More than 2.4 million Pennsylvanians are fully vaccinated.
To keep Pennsylvanians informed about vaccination efforts:
We strongly urge everyone to get the vaccine as soon as they are able. There are many variants of the virus spreading now and the best way to protect yourself, your loved ones, and your whole community is by getting vaccinated. We can stop the spread and get back to "normal," but that requires herd immunity to be achieved through mass vaccination.
On March 3, 2021 FEMA will begin operating a large vaccine clinic at the Philadelphia Convention Center.  The estimate is that the clinic will operate for 6 weeks and hopes to vaccinate 6,000 people per day.
This is not a walk up clinic and appointments are necessary and is for Philadelphia residents only.  The people who will be invited are those who have expressed interest in getting the vaccine by signing up on the website www.phila.gov.  It is the red banner that is about a 3rd of the way from the top.  They are both emailing those with internet and calling those who do not to invite them.  If folks don't have internet access to sign up they can call 311 and they are able to register them from there.  We are also able to register people as well.
The city continues to run clinics, hospitals, pharmacy partners and local health centers are also vaccinating people.
What do I need to know about the COVID-19 vaccine? Is the vaccine right for me?
How can I sign up to get the vaccine?
Start by registering your interest with the City of Philadelphia by doing ONE of the following:
Questions about the vaccine can be emailed to COVIDVax@Philly.gov
If you sign up with the city, you should receive a confirmation message.
Signing up with the city does not guarantee you an appointment for the vaccine. If you have an opportunity to receive a vaccine from another organization, please do so. If you see specific hospitals, pharmacies, or community sites offering their own vaccine interest forms, you can sign up for those as well. There is no limit to how many lists you can join.
Other places within West Philadelphia to sign up for the vaccine
The Black Doctors COVID-19 Consortium is hosting frequent vaccination sites for people who are eligible in the current phase and who live in the areas hardest hit by the pandemic, which include all of the ZIP codes in West Philly. See their website or social media, or call 484-270-6200 for more details and the most up-to-date information. March 8-12 they will be at Deliverance Evangelist Church, 2001 W. Lehigh Avenue, Philadelphia, PA 19132 from10am-4pm. From March 14-16, they will be at the Liacouras Center1776 N Broad Street, Philadelphia, PA 19121 from 10am-4pm. No appointment necessary (except for 2nd shot), must live in hardest-hit ZIP code, must be eligible for phase 1b.
I live in Philadelphia, when am I eligible to get the vaccine?
As of February 16, 2021, Philadelphia is vaccinating people eligible for phases 1A and 1B.
Other resources about the covid-19 vaccine by state
COVID-19 Virtual Vaccine Town Hall
What is coronavirus?
Coronaviruses are a large family of viruses, some causing illness in people and others circulating among animals, including camels, cats and bats.
The 2019 novel coronavirus (COVID-19) is a new virus that causes respiratory illness in people and can spread from person-to-person. This virus was first identified during an investigation into an outbreak in Wuhan, China.
What are the symptoms of coronavirus?
Symptoms of the COVID-19 can include:
Fever
Cough
Shortness of breath
The symptoms may appear in as few as two days or as long as 14 days after exposure. Reported illnesses have ranged from people with little to no symptoms to people being severely ill and dying.
How can the Coronavirus spread?
Human coronaviruses spread just like the flu or a cold:
Through the air by coughing or sneezing;
Close personal contact, such as touching or shaking hands;
Touching an object or surface with the virus on it;
Occasionally, fecal contamination.
How can I help protect myself?
Prevention:
Cover coughs or sneezes with your elbow. Do not use your hands!
Wash hands often with soap and water for at least 20 seconds. Use an alcohol-based hand sanitizer if soap and water are not available.
Clean surfaces frequently, including countertops, light switches, cell phones, remotes, and other frequently touched items.
Contain: if you are sick, stay home until you are feeling better.
Most Philadelphia Workers are Entitled to Sick Leave!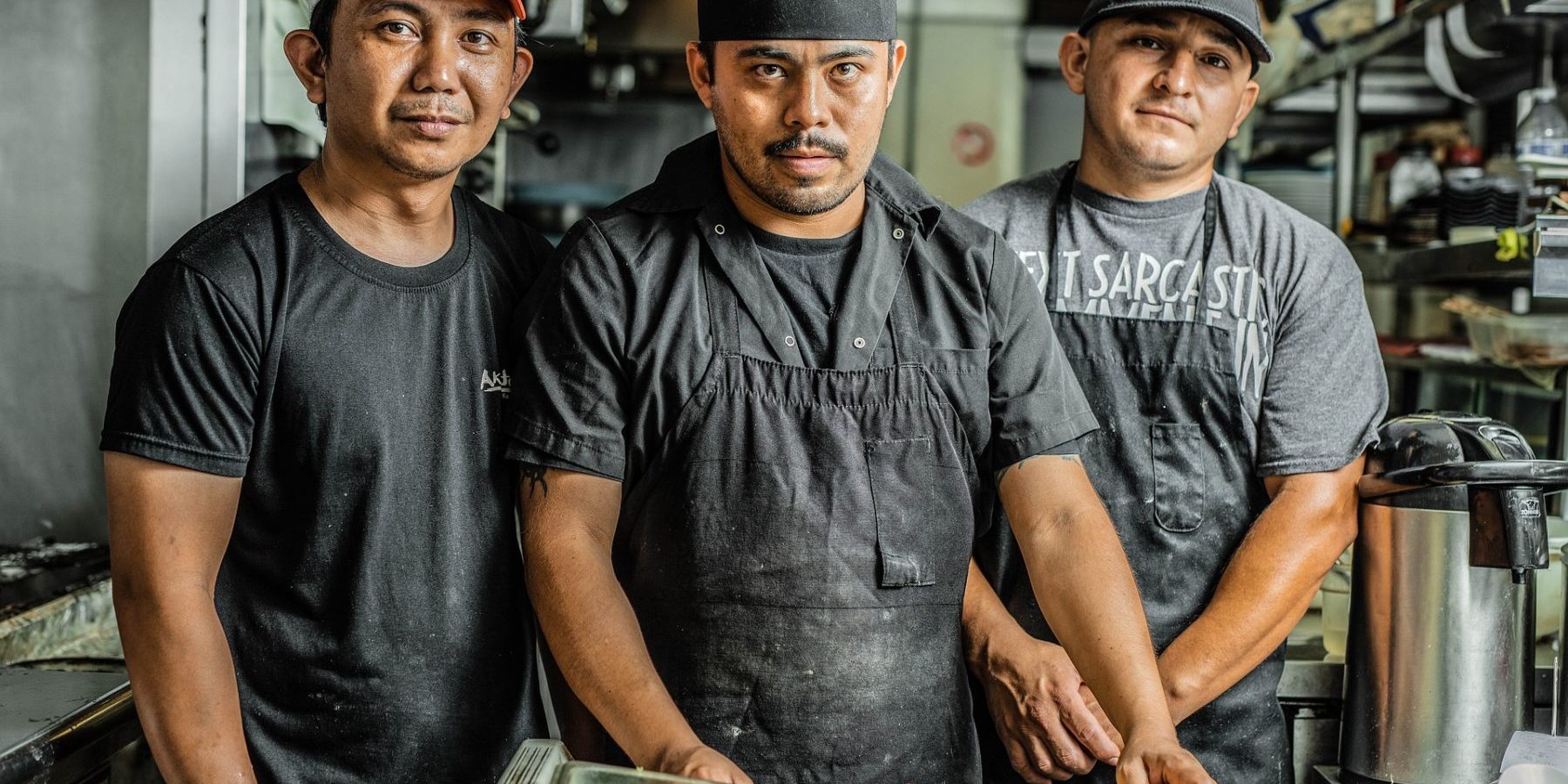 If you work at a job with 10 or more workers, you must get paid sick leave. Jobs with 9 or fewer workers must give leave but it can be unpaid.
Full time and part time workers are covered, as long as you work 40 hours per year in Philly.
You can start using sick time after 90 days on the job and can earn 40 hours per year; one hour for each 40 hours you work.
Gig workers, independent contractors, union members, seasonal workers and state and federal government workers are

 

not

 

covered by this law
You are protected from retaliation for taking sick time or asking to take it.
Philadelphia Corporation for Aging Sponsored Senior Centers/Satellites
Grab and Go meals, Home Delivered Meal Coordination or Commodities Box Access
North Central Philadelphia
CHCS Norris Square Center
2121 N. Howard St, 19122
215-423-7241
*Spanish-Speaking*
Nativity Satellite Program
(Formerly St. Anne's)
3255 Belgrade St., 19134
215-423-2772
King Older Adult Center
2100 W. Cecil B. Moore Ave., 19121
215-685-2715
Mondays and Wednesdays
Lutheran Settlement House
1340 Frankford Ave., 19125
215-426-8610
Food Pantry On Site
Mann Older Adult Center
3201 N. 5th St., 19140
215-685-9844
*Spanish-Speaking*
Mondays and Wednesdays
Northern Living Center
827 N Franklin Street, 19123
215-978-1300
On Lok House Satellite
219 N. 10th St., 19107
215-599-3016
*Asian Languages*
Mondays Only
PSC – Allegheny Branch
1900 W. Allegheny Ave., 19132
267-286-1455
Mondays and Thursdays
Northwest Philadelphia
Center in the Park
5818 Germantown Ave., 19144
215-848-7722
The Center at Journey's Way
403 Rector St., 19128
215-487-1750
Mondays Only
Northeast Philadelphia
Northeast Older Adult Center
8101 Bustleton Ave., 19152
215-685-0576
Mondays and Wednesdays
Peter Bressi NE Senior Center
4744-46 Frankford Ave., 19124
215-831-2926
Kleinlife Northeast &
Kleinlife Russian Satellite
10100 Jamison Ave., 19116
215-698-7300
*Some Korean-Speaking*
Tuesdays Only
Juniata Park Older Adult Center
1251 E Sedgley Avenue, 19134
215-685-1490
Mondays and Wednesdays
West Philadelphia
Firehouse Active Adult Center
5331 Haverford Ave., 19139
215-472-6188
West Philadelphia Senior Community Center
1016-26 N. 41st St., 19104
215-386-0379
South Philadelphia
St. Edmonds Senior Community Center CHCS (Formerly St. Charles)
2130 S 21st St, 19145 
215-790-9530
Marconi Older Adult Program
2433 S. 15th St., 19145
215-218-0800
PSC-Avenue of the Arts and Asian- Pacific Senior Resource Center
509 S. Broad St., 19147
215-546-5879
Mondays and Thursdays
Southwest Philadelphia
CHCS Star Harbor Sr. Center Satellite
4700 Springfield Ave., 19143
215-726-7468
Southwest Senior Center
6916 Elmwood Ave., 19142
215-937-1880
How you can get tested for coronavirus in Philadelphia and Montgomery County