The issue of gun violence and safety is complicated and needs a multi-pronged set of solutions requiring bi-partisanship. All parties must come to the table with an open mind. Doing nothing because it's complicated, or you're adverse to one element of the package of solutions can no longer be our answer. We must compromise and act on many fronts to make a difference and begin to turn this crisis around. There are no easy solutions, but the tide is turning in favor of addressing the issue.
Anti-Violence Community Expansion Grant Program
Conflict resolution must be at the forefront of efforts to end violence in our communities, as well as targeting the social determinants that drive them.  We must invest in those who do this this critical and lifesaving work. State, local and federal funding is available.
Gov. Tom Wolf Signs Executive Order on Gun Violence
August 16, 2019: Governor Tom Wolf signs an executive order to make sweeping changes to executive branch agencies and programs to better target the public health crisis of gun violence. The executive order is the result of months of work by Governor Wolf and his administration to focus on substantive steps that can be taken to reduce gun violence and make communities safer.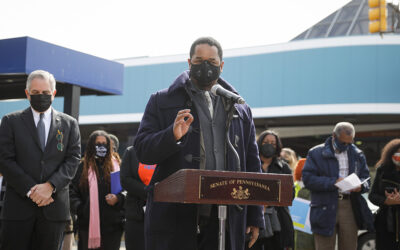 PHILADELPHIA − February 26, 2021 – District Attorney Larry Krasner on Friday joined Mayor Jim Kenney, Police Commissioner Danielle Outlaw, Senator Sharif Street and other state and local leaders to demand action to reduce and prevent gun violence. Officials were joined by community-based anti-violence organizers and area residents at Olney Transportation Center, the site of a mass shooting on February 17th in which eight people ranging in age from 17 to 71 were shot. All are expected to recover. The Philadelphia Police and District Attorney's Office (DAO) continue to seek information from the public that could lead to the identification and arrest of three males believed to be responsible for the shooting. Pennsylvania has among...
read more
Senate Bill 483 – Lost and stolen guns
This legislation that will would require lost or stolen firearms be reported to local law enforcement authorities within 24 hours.
With a number of mass shootings and countless cases of gun violence happening across the country, it has raised awareness of loopholes in gun laws. Illegal firearms proliferation, and violent crime associated with it, continues to plague residents across the United States as demonstrated by the scores of deaths ranging from police officers and innocent bystanders to the victims of domestic abuse.
Requiring lost or stolen firearms be reported to local law enforcement authorities would help to limit the availability of illegally obtained weapons, and ultimately make our communities safer.
Restrictions on the Sale and Purchase of Military Grade Weapons and Accessories
In the near future, I will be introducing legislation to put restrictions on the sale and purchase of military grade weapons and accessories.
According to Giffords Law Center to Prevent Gun Violence, a military grade weapon is defined as having the capacity to release a large amount of ammunition in a short amount of time all while the user keeps complete control of the weapon. Accessories to these weapons are added with the purpose of causing additional harm to the proposed target in a manner more efficient than before. Military grade ammunition can also be easily purchased, including body armor piercing bullets which are colloquially called "cop killers" on the streets. These accessories and others were made for no purpose other than taking the life of another human being.
Senate Bill 138 – Safe Storage of Firearms
Millions of children live in homes with easily accessible firearms. A 2018 study found that 4.6 million minors in the U.S. live in homes with at least one loaded, unlocked firearm. In fact, most children know where their parents keep their guns — even if their parents think otherwise.
From 2005 to 2014, roughly 20,000 American minors were killed or seriously injured in accidental shootings; the majority of those killed in these tragic accidents were aged 12 or younger. Child access prevention (CAP) laws are an important tool for reducing these preventable shootings. Twenty-seven states and the District of Columbia have enacted child access prevention laws – Pennsylvania isn't one of them.
Senate Bill 90 – Extreme Risk Protection Orders
This legislation that will add Pennsylvania to the growing list of states that utilize Extreme Risk Protection Orders. This life-saving policy can help protect our communities from mass shootings, firearm suicides and other acts of gun violence.
An Extreme Risk Protection Order ("ERPO") provides a mechanism for law enforcement and loved ones to request a Court order to temporarily restrict an individual's access to firearms when they clearly present a danger to themselves and others. All requests for an ERPO must be based on the observations and safety concerns of local police officers, family members or other loved ones, all of whom are seeking the Court's help with the goal of preventing firearm tragedies.
Senate Bill 88 – Universal Background Checks for Firearms
This legislation eliminates most of the exceptions to the requirement of a background check prior to the purchase or transfer of a firearm. The close familial transfer exception to the background check requirements would remain under this legislation. Senate Bill 209 was the product of continuing work on this issue with various stakeholders.
Currently, the Crimes Code requires firearm sales be conducted in front of a licensed importer, manufacturer, dealer, or county sheriff. However, this provision is only applicable to short-barreled firearms. Long barrel firearms, such as semi-automatic rifles, are not currently subject to these restrictions. This legislation would remove this applicability provision and require all firearm sales, regardless of the barrel length, be conducted in front of a licensed importer, manufacturer, dealer, or county sheriff.
Senate Bill 254 – Assault Weapons Ban
This legislation would enact an assault weapons ban in Pennsylvania. This bill would mirror language that is very similar to what was enacted in Connecticut after the Sandy Hook Elementary School shooting, which is considered to be some of the toughest in the nation.
Under Pennsylvania law, both assault weapons and high-capacity magazines are legal. There was a federal ban on these types of weapons nationwide which began in 1994. However, the Federal Assault Weapons Ban expired in 2004 and the sunset provision was never renewed. For the 10 years that the injunction was in effect, it was illegal to manufacture the assault weapons for use by private citizens. The law also set a limit on high-capacity magazines – these could now carry no more than 10 bullets. However, any weapon or magazine that was manufactured before the law went into effect in 1994 was perfectly legal to own or resell.
On Sunday, July 14, 2019, Senator Sharif Street partnered with Mr. Darryl Shuler of the organization Put It Down in hosting a community summit to discuss the ongoing epidemic of gun violence in Philadelphia.
Held at the The Met located at 858 N. Broad Street in North Philadelphia, several community leaders, state officials, and hundreds of citizens from different neighborhoods of Philadelphia joined together to formulate solutions to a problem that has seemingly become a way of life for some members of the community.
The tone of the meeting was set by members of clergy who opened the program. After a Welcome by Senator Street, Darryl Shuler lead a discussion of Community Voices, where key community members from all walks of life presented on what they believe needed to be addressed.
Then the floor was open to the public. 36 community members rose to have their voices heard, and their comments can be found here. From input by these community members, we recorded 35 suggested "Community Solutions" which are listed below.
Improve communication and conflict resolution skills
Encourage honest communication between generations
Increase funding to prevent the influx of guns into our communities
Collaborate with local businesses to employ the youth
Be a "foot soldier" – do your part to help your neighborhood
Elected officials need to walk the streets themselves to see what is happening in their communities
Be proactive and take the initiative to strengthen the family
End the stigma around "snitching"
Implement gas stations jobs (similar to New Jersey)
Create regulations to reduce the ease of buying bullets
Increase funding for after-school programs to keep children busy and engaged
Establish mentorship programs for returning citizens and formerly incarcerated people
Never forget the power of unity and community
Encourage collaboration between community organizations to ensure the most efficient use of resources and to ensure the greatest number of youths are being helped
Increase funding for mental health services
"Men carry children" – men must take more responsibility to be active participants of their children's lives
Treat our children like V.I.P.s
Stop family separations (Resolution No. 190346)
Increase funding for job training and trade schools
Improve community and police relations
Bring formerly incarcerated citizens to speak to our youth in the schools
Mandate youth programs in the public schools
Work with other cities to find creative solutions to the violence
Remember that each of us are a model to the youth
Include trauma-based programs in schools
Promote literacy to prepare youth for their futures
Add more direct support for at-risk youth in the schools
Create a youth to youth mentoring program
Solutions start in the home
Work on addressing the divide within our communities
Be honest about and stand up against media bias regarding violence in our communities
Create city run programs led by returning citizens
Philly Gun Violence Resource List
This list was compiled by WHYY's Billy Penn and is released for public use by other media organizations or anyone else.
Have a resource you think we should add? Let us know.
To discuss or report a violent crime
Philadelphia Mobile Emergency Team: (215) 685-6440
West/Southwest Victim Services Program: (215) 748-7780
Center City Crime Victim Services: 215-665-9680
Northeast Victim Services: (215) 332-3888
Northwest Victim Services: (215) 438-4410
Victim Services of South Philadelphia: (215) 551-3360
East Division Crime Victim Services (Concilio and Congreso): (215) 426-4810
For survivors and their loved ones
The federal Victims of Crime Act mandates that certain services are available to people who've personally suffered a violent crime, or those who have lost a loved one that way. There are victims services organizations all over the city that can help distribute these resources — from counseling services to legal help to reimbursement of funeral costs.
A Drexel violence intervention program, Healing Hurt People offers free case management support for people who've experienced a traumatic event — including resources like health care, housing, food and advocacy at school. There's also a mobile therapy program and peer support for fellow young adults who survived violence.
After a violent crime, the city's Office of Violence Prevention deploys community crisis intervention teams, who help neighbors and assist police in their investigation. The OVP also doles out grants to community anti-violence programs.
The Network of Neighbors Responding to Violence is a network of community members trained to support—and lead—responses to stress, trauma, loss, and violence within their own communities.
Pennsylvania's Crime Victim Compensation Program (VCAP) provides refunds for counseling services to victims, witnesses and close family members. The state picks up the tab, including insurance co-pays, or part of the full bill if no insurance.
Victims and witnesses 60 years of age or older can reach out to CARIE, the Center for Advocacy for the Rights and Interests of the Elderly, which has a victim advocacy program that provides free consulting, court accompaniment, education regarding victim rights. It will also repair external doors, windows and locks to secure victimized seniors in their homes at no charge.
Statewide nonprofit Pennsylvania Health Law Project offers free legal services via its VOCA (Victim of Crime Act) Program, helping people injured by gun violence (or other crimes) get health insurance via Medicaid to treat physical and mental injuries.
For families
AVP's hotline for families of murder victims: (215) 686-8033
Mothers in Charge: (215) 228-1718
Mothers in Charge is a national organization founded in Philadelphia by Dorothy Johnson-Speight, who lost her son to gun violence. This group of impassioned mothers, grandmothers, aunts, sisters and loved ones can help you take steps to cope with tragedy.
EMIR Healing Center was founded by a grieving parent to provide support after community trauma. After a violent crime, members will visit a block, school or individual person to offer healing services. You can also reach out for domestic violence resources.
Based in Fairhill, Operation Save Our City supports to the families of victims of violent crime. Founder Rosalind Pichardo helps arrange public demonstrations and vigils to generate attention for cold cases.
For kids
YEAH offers after-school programming in West Philly, including targeted instruction to help kids learn peer mediation and conflict resolution skills. There's also a free food bank
Run by Juwan Bennett and headquartered at Temple University, the Urban Youth Leadership Academy matches middle school students with college-aged and early-career mentors who help them complete a service project.
The Uplift Center for Grieving Children offers in-school grief support groups — plus services for children and their caregivers at six locations in the city: East Falls, West Philly, South Philly, the lower Northeast, Center City and North Philly (Lenfest Center).
For resources around suicide
Philadelphia Suicide and Crisis Center: (215) 686-4420

National Suicide Prevention Lifeline: 1-800-273-8255

My Brother's Keeper (MBK Cares)

: (267) 580-9440
MBK Cares runs regular community events out of Cobbs Creek recreation center. They'll welcome you into an existing network of support, helping you find counseling and cope with hardships like bullying.
The Donovan Williams Memorial Foundation is the place to go if you'd like to find a supportive community rooted in sports. The runs a basketball league to promote sportsmanship, foster social skills and educate youth on suicide prevention.
The city's Suicide Prevention Task Force operates five regular support groups all over the city for people who have lost a loved one to suicide.
For resources around domestic/intimate partner violence
Fishtown's Lutheran Settlement House is designed to support survivors of domestic violence in any way they might need — with counseling services and programs for seniors, caregivers and people experiencing homelessness.
Congreso offers bilingual education and services for people who are dealing with domestic violence. The goal: to increase awareness and prevent domestic violence, and to connect survivors to resources.
Women Against Abuse boasts tons of wraparound services, from counseling to housing to legal help and programs for LGBTQ people experiencing intimate partner violence.
More counseling services
The Anti-Violence partnership offers many services. There's a counseling center, plus resources for kids, victims of intra-family homicide, and people whose family members have been murdered.
Cost is often a roadblock to folks obtaining mental health services. Luckily, Philly offers a ton of free or affordable options. Check this list for various options.
City & State Leaders Join Philadelphians in Demanding Safety From Gun Violence :: February 26, 2021
Sen. Sharif Street and Philadelphia Legislators to Host Violence Prevention Forum :: July 14, 2019
Senator Sharif Street Outlines Gun Reform Policy :: June 5, 2019