Diasporic Alliance for Cannabis Opportunities
Cannabis Opportunities Conference
September 27 – 28, 2019
 

//

Temple University
The 2019 Cannabis Opportunities Conference (COC) is a platform to bring cannabis experts and community stakeholders together to learn about trends in the emerging cannabis industry. The COC aims to include topics, job fair, vendors, exhibitors special veteran, condition specific (I.e.Sickle Cell) and disability seminars, and speakers that are relevant to helping to educate and empower marginalized communities.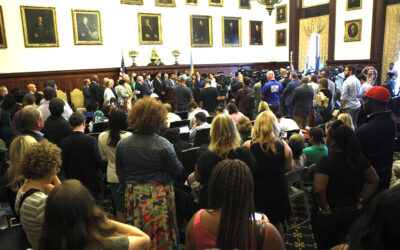 Philadelphia, PA − August 15, 2019 – Senator Sharif Street (D-Philadelphia), today joined Philadelphia Mayor Ji Kenney, Senator Bob Casey, Congressman Evans and Philadelphia Police Commissioner Ross along with a host of elected officials from every level of government to condemn the inaction of state and federal leaders in the wake of chronic gun violence and mass murder, prefaced by the largest mass shooting of Philadelphia law enforcement in recent history.  Six police officers were shot, and dozens more held at bay for hours by a single armed assailant with an assault weapon.                   
read more
LGBTQ+ Rights are Human Rights
Honoring Stonewall 50th Anniversary
On June 28, 1969, a mass protest broke out in front of the Stonewall Inn in New York City against the discriminatory practice of the police raiding bars that were frequented by members of the LGBT community. The demonstration gathered more attention and community support as members of the community clashed with police forces for the following six days, leading the "Stonewall Riots" to become one of the most-well known catalysts for the LGBT Rights Movement in the United States.
50 years after this iconic display of community solidarity against discrimination, we recognize and honor the elders of the
LGBT Rights Movement who have lived their lives to ensure that LGBT+ Rights are indeed counted as Human Rights for all.
SUPPORT SB 942! Take Action!
Let's save Money! Let's give our elderly quality of life! Join us today! Change happens when we work together!