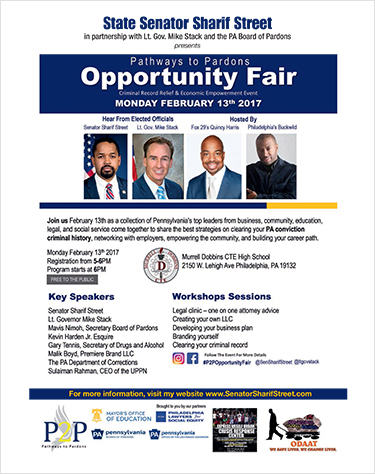 PHILADELPHIA, January 17, 2017 — State Senator Sharif Street will join Lieutenant Governor Mike Stack and the Pennsylvania Board of Pardons to assist individuals with criminal record relief and economic empowerment at an upcoming "Pathways to Pardons" Opportunity Fair.
The event takes place on Monday, February 13 at 6 p.m. at Murrell Dobbins CTE High School, 2150 W. Lehigh Avenue in Philadelphia.
Registration takes place from 5 to 6 p.m. prior to the fair, and is encouraged for those interested in accessing their background to receive one-on-one advice from an attorney and begin the pardons process at the event.
All participants may access vendors and several workshops focusing on clearing a criminal record, creating an LLC, developing a business plan and branding.
Keynote speakers include: Senator Sharif Street, Lieutenant Governor Mike Stack, Board of Pardons Secretary Mavis Nimoh, Malik Boyd, CEO of Premiere Brand LLC, officials from the Pennsylvania Department of Corrections and the Pennsylvania Board of Probation and Parole, including UPPN (The Urban Philly Professional Network) CEO Sulaiman Rahman.
For more information, call Senator Street's office at 215-227-6161 or follow the event on Facebook and Twitter @SenSharifStreet, @ltgovstack and #P2POpportunityFair.
###