March 2020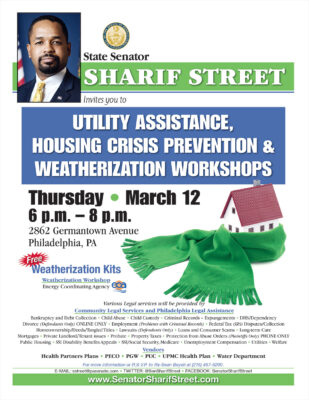 Senator Sharif Street will host Utility Assistance, Housing Crisis Prevention & Weatherization Workshops on Thursday, March 12th from 6pm - 8pm.
Various Legal services will be provided by Community Legal Services and Philadelphia Legal Assistance.
Bankruptcy and Debt Collection • Child Abuse • Child Custody • Criminal Records – Expungements • DHS/Dependency • Divorce (Defendants Only) ONLINE ONLY • Employment (Problems with Criminal Records) • Federal Tax (IRS) Disputes/Collection • Homeownership/Deeds/Tangled Titles • Lawsuits (Defendants Only) • Loans and Consumer Scams • Long-term Care • Mortgages • Private Landlord/Tenant issues • Probate • Property Taxes • Protection from Abuse Orders (Plaintiffs Only) PHONE ONLY • Public Housing • SSI Disability Benefits Appeals • SSI/Social Security, Medicare • Unemployment Compensation • Utilities • Welfare
Find out more »
May 2021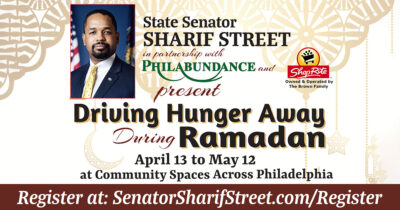 Senator Street, Philabundance and Shoprite are hosting a 30-day food drive during Ramadan which will feed 6000 people.
The Driving Hunger Away During Ramadan initiative will feed 200 people a day at community spaces throughout Philadelphia for 30 days from the beginning of Ramadan on April 13 to May 12. Pandemic related unemployment has been disproportionately higher among low-income communities. Food insecurity in the Philadelphia region rose sharply due to the pandemic, with many of Philabundance's agencies reporting a 60 percent increase in the number of clients they serve.
Find out more »
+ Export Events